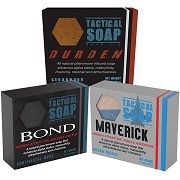 I started a small company in 2014 that infuses Hand Made Soap with Pheromone formulas.
Visit Tacticalsoap.com
We have been featured by Touchofmodern.com and DudeIwantthat.com and have scaled up production. We have added an affiliate program and are beginning our soft launch. We pay out with paypal, and offer 25% to start but can scale to 40% with volume.
https://tacticalsoap.refersion.com
is the affiliate sign up if you would like to give it a try. Let us know what you need if you decide to join us and contact me through refersion.
Before you comment on the efficacy of pheromones please click
:
https://youtu.be/rrA_cuhH0Y0